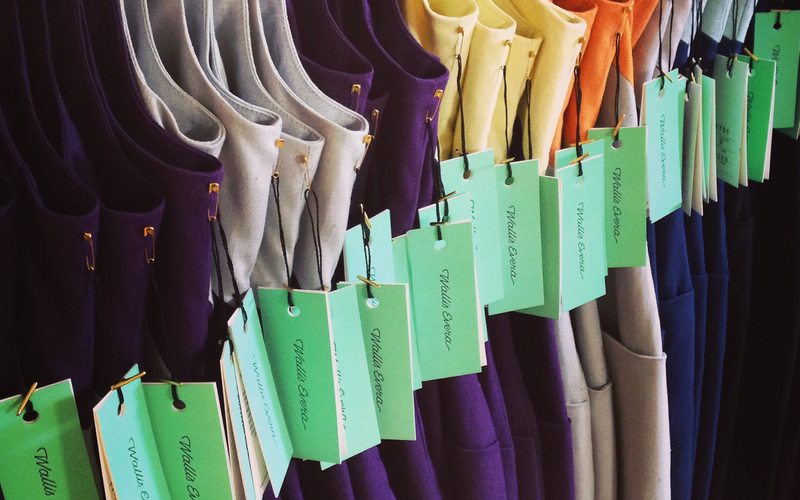 About Us
We know how hard it is to find great clothes for work.  
It's tough to find clothes that are office-appropriate and the right fit, colour and style for your body.  And if you're like us, it's particularly hard because you really want clothes that aren't just made of polyester, acrylic or nylon.  You want high-quality clothes that look sharp and feel great, and it would be ideal if they could also be made of a natural fibre, rather than something petroleum-based.  Right? We get it.  
You probably would also like to be sure your clothes didn't come from a sweatshop or employ child labour.  And it would certainly be nice to know that they were manufactured without causing terrible damage to the environment. Oh, and you probably really don't want to be caught wearing the exact same thing as someone else in your office, because you all shop at the same mall.  That's never good.
And maybe, on top of it all, you're also sensitive to wool.  So, no sheep for you, unfortunately.
Yes, with a list of preferences like that, it's hard to find great clothes for work. And those are exactly all the reasons why we started this company.  
Wallis Evera was created in support of the eco-fashion revolution.  
We serve women who want natural fibre, locally made, and sustainably produced clothing that's also suitable for the traditional office environment. We believe that clothes can be more than just cute or comfortable or highly functional. They can be an ethical statement.
We are Canadian.  
All our products are designed, cut and sewn in Vancouver, British Columbia, and shipped from here to our customers worldwide.  We love being part of the global economy while providing great jobs to people in our local, West Coast community. Want to learn more about what we do here and the things we think about?
Be sure to check out our blog
 for the scoop on our founder,
Monique Helbig
, and more about our
Behind the Scenes
, conversations with
our friends
 and general
musings about life
 in this crazy industry of fashion.
We use hemp as the foundation fibre for almost all our products.
Hemp is one of the most eco-friendly fibres in existence.  As a vegetable fibre (as opposed to petroleum-based fibre, which is what nylon, acrylic and polyester are), hemp is naturally biodegradable and highly renewable.
Even when compared to other eco-fibres, hemp comes out ahead.  It's been called the king of eco-fibres for lots of good reasons (although we like to think of it as the Queen):
In stark contrast to cotton, hemp requires no harmful fungicides, herbicides or pesticides to grow.  
It produces more fibre yield per acre than any other source: 250% more fibre per acre than cotton, and 600% more fibre per acre than flax (which is the plant used to make linen).
Hemp also consumes far less energy and water than cotton during textile processing.
Hemp fabric itself is highly durable, breathable, absorbent, and naturally resistant to mould, bacteria and ultraviolet light.
If all that's not enough reason to be as intrigued with hemp as we are, here's a few more:
Hemp is a strong, incredibly versatile fibre.  Almost all parts of the hemp plant can be used in a variety of applications, from textiles to plastics, paper, food and biodiesel.  As a natural resource, it hasn't even come close to reaching its potential in terms of market reach and application.
Check out some of our favourite hemp products, well, other than our own!  There is an incredibly cool looking electric scooter made of hemp fibre, produced by a company in the Netherlands, and a super-cute hemp-based electric car from a Canadian company, called the Kestrel that unfortunately didn't go into final production, but it certainly made a splash when it debuted as a prototype.  
A final reason for choosing hemp (and possibly the coolest, as far as we're concerned) is that industrial hemp cultivation has been legal in Canada since 1998.  For us, that means there exists a possibility of a future where the hemp clothing we make is from the hemp that's actually grown here -- and that's exciting.  We're not there yet, but the possibility exists, and we want to be part of that when it does happen. 
Our clothes are made with love and consideration for people and the planet.
We are small batch manufacturers because we think it's important to take our time and pour in the love.  We care about producing high-quality products, and we like to stay nimble and responsive to our customers' feedback on fit, feel and style.  If you have comments for us, please send them in so that we can keep changing it up and making the kind of products that you want. 
Wallis Evera fabrics are sustainable, biodegradable, and chosen for their comfort, shape, and durability. Our clothes wear in beautifully, becoming softer and even more comfortable with every wear.  Our fabrics are treated with fibre reactive low impact dyes and pre-shrunk cationic softener, which is water-soluble.
Some of the other fibres we use include:
LYOCELL
Lyocell is a biodegradable fibre made from the cellulose of eucalyptus trees.  Eucalyptus trees are a fast-growing, renewable resource that requires low water and low pesticide inputs.  The fibre requires no bleaching and the fabric drapes beautifully and is breathable, strong, and wrinkle-resistant.
CERTIFIED ORGANIC COTTON
The cotton we've sourced is certified organically grown by Control Union according to the NOP National Organic Program. Other certifications for our cotton are "Global Organic Textile Standard" GOTS for the processing of fibres from certified organic agriculture, OE 100 Standard of the Organic Exchange / Textile Exchange, OE Blend of Organic Exchange / Textile Exchange/SBP® Sustainable Biodegradable Products Transparency.
SILK
Wherever possible, we try to source peace silk, which allows for the more humane harvesting of silk cocoons. In the production process of peace silk, the silkworms are allowed to fulfill their lifecycle and emerge from their cocoons as moths. No silkworms are harmed or killed in the manufacturing process of peace silk.
DRESS MATTERS.